Testimonials
---
Magical tour of the Cotswolds with Ken
Seriously, look no further, you have found your Cotswolds tour guide! We toured the Cotswolds with Ken for 3 purely magical days in April 2022. I still cannot believe the outstanding beauty and history of this area. Ken was absolutely wonderful. He is extremely knowledgeable and it really felt like we were touring with a long time family friend. He tailored the trip to exactly what we preferred. He gave us plenty of time to wander around each stop as well to get a feel of the area (and shop of course). He even fit in a reservation for a lovely afternoon tea for our anniversary. I also told Ken how I collect and exchange antique teacups every Christmas with a group of girlfriends; and he took us to the most AMAZING antique teacup shop I have ever seen. It was one of our absolute favorite trips, and a huge part of it was all thanks to Ken. We kind of miss him actually (and the fish and chips at the Swan) haha! We will definitely be back and will book a tour with him again, that's for sure!
Courtney
---
Cotswold trip was well worth the time
Ken was a great guide and very helpful in setting up the tour, asking us ahead of time what our preferences were before he planned the day outing. He picked us up at the station and we toured around for several hours, having a lovely lunch at the Swans Inn and doing some shopping at Stow on the Wold where we also had tea. Ken seemed to know many people he ran into, having been raised in the area and he was very knowledgeable about the history and current environment of the Cotswolds. We had a great day, even though the weather was misty all day and Ken was a great tour guide, with a comfortable car that easily fit our family of four. I highly recommend his tour if you are interested in a short day trip from London - easily accessible by an hour train trip from London.
Wanderer
---
Brilliant day in the Cotswolds
Ken offers a lovely day in the Cotswolds driving the countryside showing you the places he has loved his whole life. He grew up in the Cotswolds so has so much to show and tell his guests. I did his tour 6 years ago with others and wanted my husband and friends to experience the Cotswolds with Ken this spring. We visited some of the locations from 6 years ago but I saw places I'd not seen before. Make sure and have him book lunch foe you at The Swan. Brilliant food there! He will get you back to the train for the trip back to London.
Kathy
---
Absolutely delightful day!
I actually feel like I should leave two separate reviews for Ken, as he was an absolute pleasure to work with both times...
As a 2019 Christmas gift, I had planned a surprise trip to England for my mom to take place in March 2020 to do all things Downton Abbey. One part of our trip was a tour of the Cotswolds, including Bampton the real life Downton "downtown," with Ken Fowler. Well, as we all know, the world shut down that March and we had to cancel our trip. Ken was so easy to work with and wonderful in refunding our money quickly.
Fast forward to this October. My mom and I saw an opportunity to re-book our trip and my first email was to Ken. He immediately responded and confirmed we could do our half-day trip, including Bampton. We were both excited to finally meet each other. I should mention that paying for Ken's services was really simple (I used PayPal).
On Tuesday, Nov. 16, mom and I hopped the train Ken recommended from London to Charlbury, where he was waiting for us as soon as we arrived. His car was very nice and clean and provided a comfortable ride for us all day.
Ken's knowledge of the Cotswolds is vast and he was an absolute delight to converse with throughout our trip. We ate lunch at The Swan Inn, at Ken's recommendation, and it was absolutely delicious, warm and welcoming. We packed in several stops in our time together, with Ken allowing us to stop and take pictures whenever we wanted and always checking with us to make sure the tour was what we wanted. He even let us linger in Bampton, sharing behind-the-scenes stories about Downton, which we loved.
At the end of the day, Ken took us back to the train station right on time and waited until we safely got onboard.
Ken was so delightful and really added something special to our vacation. I will definitely book his services again...because we will be back!
Lisa R
USA
---
A really lovely day with Ken. My partner and I have both had 2 vaccinations so we were able to travel from the States and tour with Ken. We really enjoyed our introduction to the Cotswolds and his local knowledge is great. We hope to come again one day. Thank you so much Ken.
MW
USA
---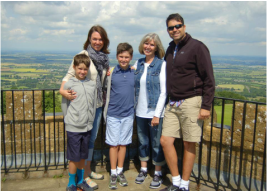 This summer, my family of five travelled to England and the highlight of our trip was, without a doubt, the day we spent with Ken Fowler touring the Cotswolds. Not only does Ken have first-hand knowledge of every square inch of this beautiful area, but his wit and kindness and willingness to cater our tour to the myriad interests of our family made for one of the best touring experiences of my life. Ken is a font of knowledge on architecture, history, religion, family lore...and the day just flew by. From our spectacular view from the top of Broadway Tower to our exquisite lunch on The Swan, Ken made sure that our entire day was filled with interesting facts, beautiful scenery and delightful company.
Thank you, Ken, for a lovely, lovely day.
We would highly recommend Ken and his tours to anyone looking for the best of the Cotswolds.
Katie and Family
California, USA
---
Ken is a very friendly guide who knows a lot about the Cotswolds. We thoroughly enjoyed our time with Ken and particularly like the fact that our tour is fully customisable based on our interests.
---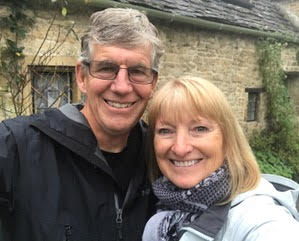 Jay and I, along with our travelling friends Dick and Ellen, had a wonderful half day tour with Ken in late October. From his warm welcome at the train station and tremendous knowledge of the area to the delicious lunch at the Swan Inn in Swinbrook, we couldn't have asked for a more enjoyable day in the Cotswolds.
We had been in London and needed to check out of our flat to stay at a Heathrow Airport Hotel for an early departure the next morning. We really didn't know what to do with that last day, especially with all of our luggage. After contacting Ken about a possible tour he made it very easy for us with his helpful suggestion of taking a train out to the Cotswolds and loading his van with our luggage. We took the train from Paddington out to Charlbury, which was about an hour and booked in 2nd class as Ken suggested. This was very easy and there was plenty of room for the suitcases. Upon our return to Paddington we hopped on the Heathrow Express for 15 minutes out to the Sofitel Hotel located at Terminal 5, making this a seamless transfer.
Back to the tour - we travelled the beautiful winding roads to small picturesque villages all the while Ken treating us with his stories of days gone by. He took us past large estates (one owned by a former classmate who entertains royalty there), small cottages and thatched roofed homes. The fall scenery was spectacular even in the mist of the day. I can only imagine it on a clear day so will definitely have to return for a longer tour.
Ken is such a charming, delightful guy you can't help but have a great time on this tour. We didn't have an agenda so we let Ken choose where to go and we were pleased with it all.
Another bit of info is that we compared the cost of the day tours from London, where the itinerary is set and there is a busload of people, to our private tour with Ken and the cost was less.
We would highly recommend this tour!!! Go see the Cotswolds from a local's point of view!
Jay and Karla G
USA
---
Everyone had told us we must visit the Cotswolds, but we don't like to drive when abroad. What to do? We could have spent days trying to make our way by bus to all the villages with the fascinating names, but that possibility seemed quite daunting. Then we found Ken online. His tour was everything we hoped for and more. There is nothing quite like touring with someone who was born and still lives in a place. Ken showed us the house where he grew up, the font where he was baptized, the inn where the Prime Minister took the President of France to lunch (we had lunch there too), and so much more. When he found out that we liked languages, he entertained us with the pronunciation of some of the village names. When we asked if we could visit Chedworth Roman Villa, he adapted the tour accordingly. All through the day, he talked about both the places we were visiting and his own life experiences, while we also told him about our home and travels (and even a few political opinions). He was a font of information, but didn't overburden us with facts we would never remember. (We will remember his story about saving Burford from the bypass and other anecdotes.) We had perfect weather and thoroughly enjoyed seeing Chipping Camden, Stow-on-the-Wold, Lower Slaughter, and especially Ken's hometown of Burford. Truly the Cotwolds live up to their reputation for beauty and peacefulness, and Ken made our tour so effortless for us. The day after our tour we returned to Bourton-on-the-Water and Lower Slaughter, just so we would have time to browse around and shop a bit and take time to just "be" there and savor the atmosphere. For a perfect day or days in the Cotswolds, you should definitely consider touring with this charming gentleman. Thank you, Ken!
Ann C
USA
---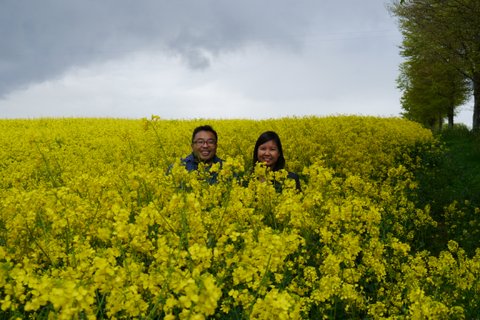 We were very happy with the top notch service Ken provided. He was so thoughtful. He ensured that we got to see the sights we wanted to see in good time and we did not miss our train back to London. His attention to great customer service impressed us. He pays attention to details e.g. when our B&B hostess was slightly late on the day of our check-in, he waited with us until she returned and we were checked in properly. He also remembered to do the things we said we wanted to do but forgot.
We enjoyed Ken's company tremendously. He was, as his other customers testified, the quintessential Englishman. My husband really got the feel of what the British are like from his interactions with Ken. That was his aspiration for this trip. It was worthwhile hiring a personal tour guide as we got to get under the skin of the Cotswold man.
I would highly recommend Ken to any of our friends.
We will fondly remember him everytime we see the photograph he took of us among the "daffodils". (They were actually rape seed flowers, as Ken accurately informed us). Ken came up with the idea of us taking a picture among the fields. The picture will encapsulate the truly memorable time we had in the Cotswolds.
MG and KW
---
Last week, we took a two-full-day private tour of the Cotswolds with Ken Fowler. We couldn't have selected a better, nicer, or more informed tour guide. Ken was born, raised, and still resides in the Cotswolds and is intimately familiar with each and every town and village and seemingly each and every home and church. Ken adjusted the touring schedule to meet our interests and time constraints. In the course of spending two days together, including two very enjoyable lunches, we got to learn about Ken personally and his wonderful, accomplished family. He is also a skilled, cautious, and considerate driver. We can commend him without equivocation.
Take care and hope to do it again in a few years time.
Betty and Victor
USA
---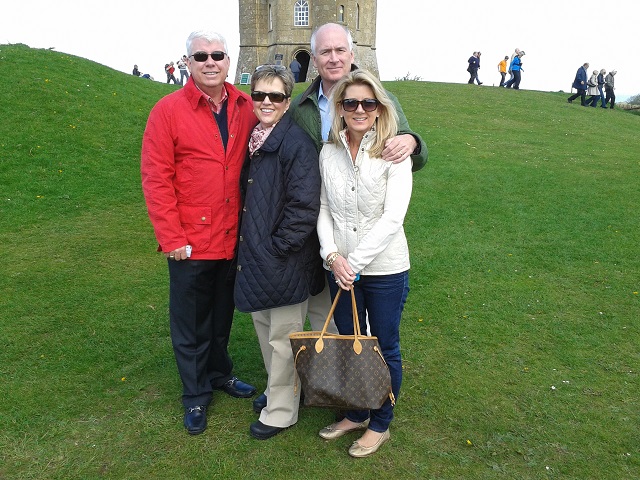 I just wanted to let you know how much we enjoyed meeting you and to express our heartfelt appreciation for the guided tour through the Cotswolds. The Laheys & Bates have not stopped talking about how much fun we had and how much we learned from you. The day/itinerary could not have been more perfect and your comfortable style made for such a relaxed, informative and entertaining tour. We will cherish the memories and for that we are forever grateful to you for exceeding our expectations! Fowler Tours is tops in our book!
Take care and hope to do it again in a few years time.
Gordon Lahey
North Carolina, USA
---
We spent a full day with Ken touring the Cotswolds area. We did not have an agenda, we left it up to Ken to show us his Cotswolds. Driving through what appeared to be a winding, never ending maze of country roads we discovered little hamlet after hamlet, a step back in time to a simpler village life. The architecture and buildings that have lasted hundreds of years was inspiring. The places we visited presented a picture of old England as it must have looked and functioned for centuries. We also saw some more populated areas that were still quaint and beautiful but it was the hidden gems that stole our hearts and made us want to pack it all in and move to a village in the Cotswolds. Had lunch at a wonderful creek side tavern, walked around a church and village location used for filming of Downton Abbey, and just enjoyed the step back in time. Thanks Ken for a great day!
Cyndi B
USA
---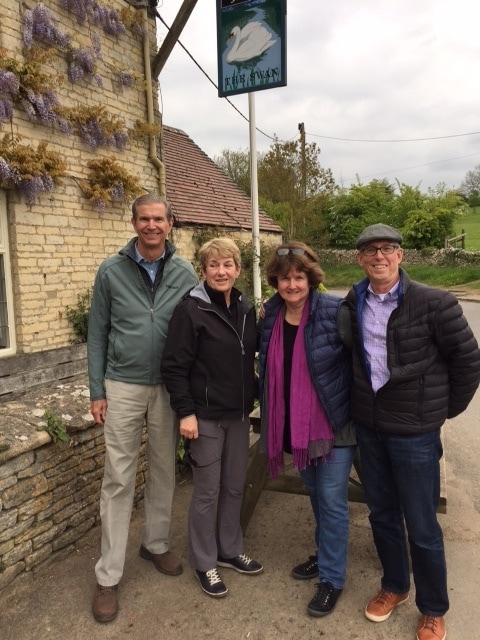 We had such a wonderful day yesterday! Our late booking with you to see the Cotswolds and a bit of Oxford was perfect. Your countryside is beautiful and the villages are charming, and the surprising (to us) history of the Swan Inn plus its Downton connection (and the other Downton sites) were unexpected bonuses. I could go on but you hear this all the time!
You are a most enjoyable and of course knowledgeable guide and please be assured that all four of us will long remember our day with you and now consider you a friend. Our very best to your and your special family.
Michele
USA
---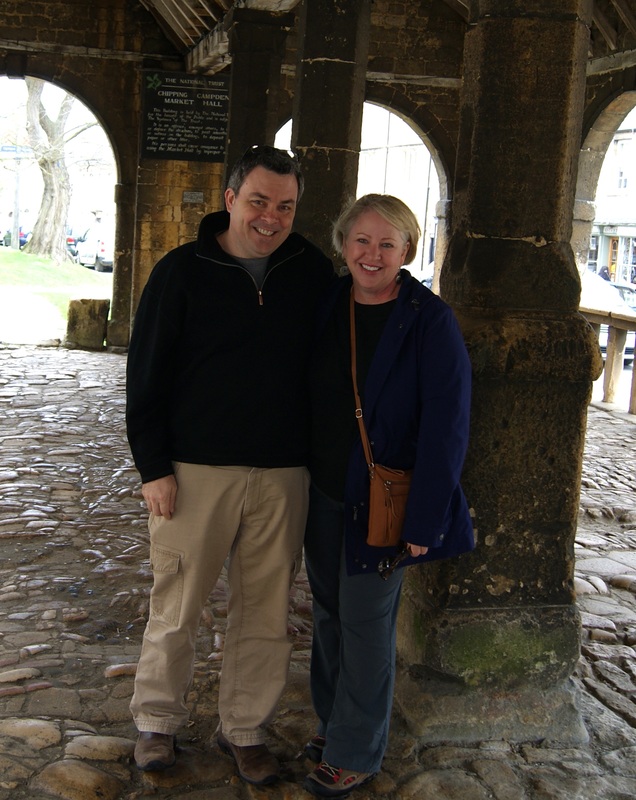 My wife and I recently toured the Cotswolds with Ken Fowler and the glowing reviews we had seen online for his services are spot-on. Ken was extremely patient and helpful in explaining our options when we booked the tour and we were able to include all of the Cotswold villages we wanted to see in the day - including a visit to the village where Downton Abbey is filmed. Ken's knowledge of the area, his colorful stories of growing up there, and his excellent choice of locations for coffee and lunch stops made the day unforgettable! My wife and I agreed that it was our best touring experience ever and we would highly recommend Ken and Fowler Tours.
Jeff and Jen
USA
---
We had a terrific day with Ken as our guide through the Cotswolds. He has a passion for this gorgeous area where he grew up! He adjusted the day a bit because of morning rain, and his stories kept us entertained. Ken has a great wit! We appreciated the history lessons along the way. We highly recommend this tour! Just sit back, relax and know you are in good hands!!! Cheers!
M Wright
USA
---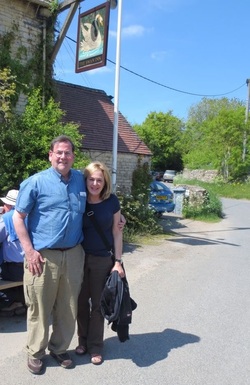 My husband and I recently returned from a whirlwind trip to London, and Bath, allowing only one day to tour the Cotwolds. We had a wish-list of places to visit that seemed to far exceed our time frame. In December, I contacted several tour guides who either said they could not accomplish our list or seemed too unyielding. Via email, Ken Fowler figured out a plan to make our plan happen and came across as genuinely caring. He went the extra mile of checking the train schedules and making reservations for lunch at the lovely Swan Inn. In Ken's hands we were able to navigate through a brief tour of Oxford, a tour of Blenheim Palace, a stop at Hidcote Manor Gardens, and a very personal tour of his hometown of Burford. Had we attempted all this on our own, we might still be wandering around the countryside, trying to find our way today. Most importantly, because Ken was born and bred in the Cotswolds, and because he was so willing to share his love of the area, we felt we were able to get a very up-close and personal sense of this part of the world; something one could never achieve on a tour bus. We highly recommend Ken Fowler's tours.
Beth Glenn
USA
---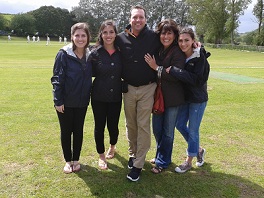 We had an absolutely wonderful day in the Cotswolds with Ken Fowler. Not only was Ken extremely accommodating, but his knowledge of the area and his kind demeanour made our visit so pleasant. We enjoyed the picturesque countryside, and the spectacular view from Broadway Tower was one of our favourite moments. Ken's stories of growing up in Burford were wonderful, and he was an absolute pleasure to be around. We feel as though we have made a lifelong friend and we are hopeful to see him again one day. We will certainly refer our friends and family to Fowler Tours!
Kim and Andy Norman and family
USA
---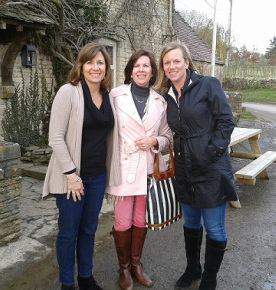 My girlfriends and I had a fabulous half day in the Cotswolds with Ken. He treated us to a spectacularly sunny and mild January day. The rolling hills, beautiful towns, and gorgeous homes in the Cotswolds "came to life" through Ken's stories and historical knowledge. Ken is the quintessential English gentleman. Knowing that we were all Downton Abbey fans, he made sure to treat us to a special lunch at a pub that holds a piece of the Downton Abbey story. I have already booked Ken for another day trip this summer and will continue to recommend him to anyone looking to spend time in the Cotswolds.
Elaine Long and friends,
Virginia, USA
---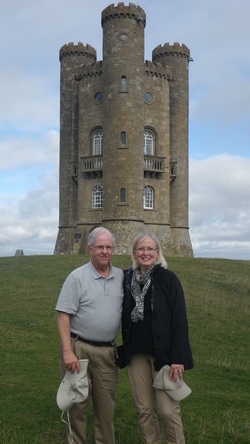 In late September, my husband and I spent a delightful day touring Cotswold villages with Ken Fowler. We chose Ken based on TA reviews by others, and because we very much liked the sample itinerary he sent us by e-mail after our first request for information. He was easy to communicate with, and very receptive to our suggestions of a few tweaks to the various iterations of the itinerary as the day approached. We learned while touring that he also does longer excursions, including week-long jaunts to the Lake District for example; we'd recommend him for that as well - I doubt that one would tire of his insights and stories.
We've previously used private guides in St. Petersburg, Russia, France's Loire Valley, and on Haida Gwai, in Western Canada, so we know what we like: preferably a long-time local resident, with deep and broad knowledge of the historical, social, political and economic milieu; a tolerance of our numerous questions; a quirky sense of humor; flexibility to add, subtract or adjust times at the various stops. Ken did a stellar job of ticking all of those boxes.
Our multiple destinations included very small villages, some with hobbit-sized stone cottages; lively market towns with rich and sometimes bloody histories (think Battle of Stow-on-the-Wold); towns with 'millionaires' rows' of magnificent stone homes; the best of the wool churches; stunning territorial views, both from ground-level and from the Broadway Tower. Ken's knowledge of Cotswold history and society, of Cotswold building techniques, of sheep farming, of the phenomenon of estate-owned villages is all stunning. We were also very impressed by his knowledge of British TV series, a guilty pleasure of ours. If you go touring with Ken, do encourage him to tell his story of the Lake District B&B proprietor whose demeanor will remind you of Basil Fawlty, one of John Cleese's most memorable characters.
When Ken discovered during the day that we are fans of Downton Abbey, he added the village of Bampton to our stops. We toured St. Marys Church, where Lady Mary and Matthew Crawley were married; saw Mrs. Crawley's house, and the town library, which serves as Downton's post office. Ken's descriptions of the Downton-izing of Bampton, including where locals hide to watch the filming, were really entertaining. The role of Swinbrook's Swan Inn in the series was also covered during our stop for lunch. By the way, lunch was excellent.
Our last stop of the day was in Ken's hometown of Burford, a wonderful place. Our walk from the church back to the High Street through the neighborhood where Ken lived as a child was excellent. Knowing my interest in needlepoint, Ken contacted his old friend David Cohen at the Burford Needlework Centre, and we had a fantastic visit and shopping experience with David when we returned on our own the next day.
We strongly recommend that you choose Ken Fowler Tours for a great Cotswold experience!
Ron and Lee Magid,
Tennessee, USA
---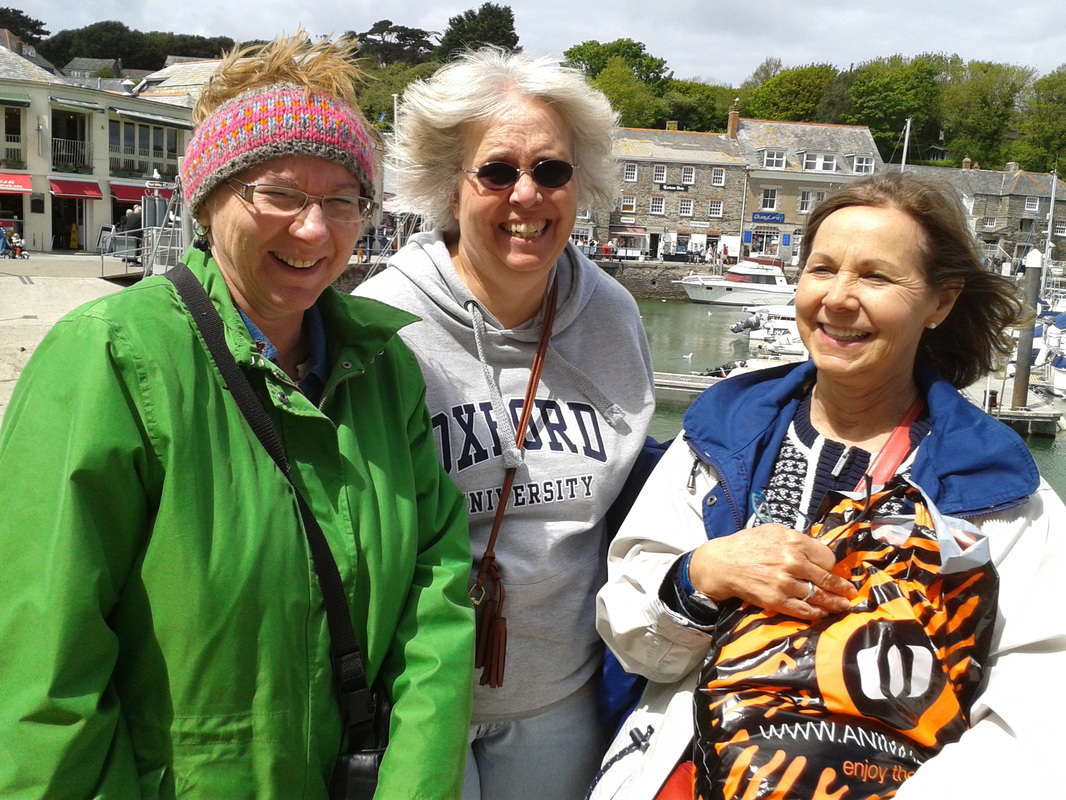 Myself and 2 other friends spent 9 absolutely wonderful days with Ken Fowler visiting the Lake District, the Cotswolds, the Dales and Cornwall. Ken located B&B's, made reservations for lunch as a surprise in Port Isaac, and added extras to the trip as we went along by researching during his evening hours, by talking to locals, internet, etc. along with his vast knowledge of each area we went to. Good walking shoes are a must along with camera/video. I started planning this trip in Sept.ember and we visited in May. Ken was in constant contact via e-mail through the whole process. He did his best to find out our interests in advance, listening to our discussions in the car as we traveled, and his vast knowledge of the areas. He took us to places you would never even drive by on a tour bus, he never rushed us, but looked after and asked about our every need. I must add a comment about cost - what 3 of us spent for 9 days, is what one person would pay on a large tour group and that is w/o airfare. There is not enough room to write all the wonderful memories about this trip of a lifetime! Ken is an absolute gentleman and would recommend him w/o reservation to anyone. Thanks Ken!!!
Pamela and friends
Ohio, USA
---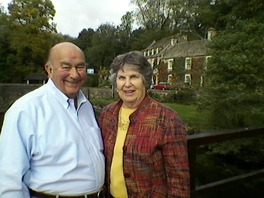 Dear Ken,
Two glorious days in the Cotswolds being driven by a Burford native....it doesn't get any better than that! Your personal anecdotes of growing up in Burford and the surrounding picturesque countryside made the tour uniquely entertaining and brought a special element to our visit. You provided a perfect balance of history, walks around the charming villages and drives on the backroads where you did a masterful job of avoiding the pheasants who obviously own those roads. And you know where the hidden quintessential English pubs are located. Thanks for taking such good care of us.
Charlie and Cathy Reed
Long Beach, California
---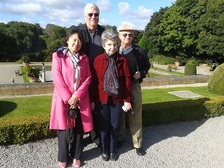 Although we have traveled extensively and been to the UK before, this was our first trip to the Cotswolds and our first time with a personal tour guide. After searching numerous websites, reading reviews, and e-mailing back & forth to Ken, we knew we had found our tour guide.
Ken's unique and personal experience growing up in the Cotswolds, and his in-depth knowledge of the UK, resulted in an outstanding tour and one of the best trips we have ever taken.
It was so easy and fun to plan the trip with Ken by e-mail because he had so many ideas for specific areas to visit, things to do, and special places for lunches and dinners. In arranging the tour, Ken gave us options to consider, and was always flexible and willing to hear our suggestions. We enjoyed all our tour stops, especially Broadway, Swinbrook, Bibury, Oxford, Blenheim Palace, and our overnight stay in Burford. When we asked about visiting York and Redcar (some of our ancestors emigrated from this areas to the U.S. in 1845), Ken researched the areas for information, and we had two memorable days in the northern part of England.
Ken exceeded all of our expectations, and we are already looking forward to planning another and longer trip with Ken as he expands his tours to other areas of the UK. As he said on his website, "we met as strangers, and we parted as friends".
Charles and Hannah Alexander - Westlake, Ohio USA
Jim and Judy Watson - Mansfield, Ohio USA
---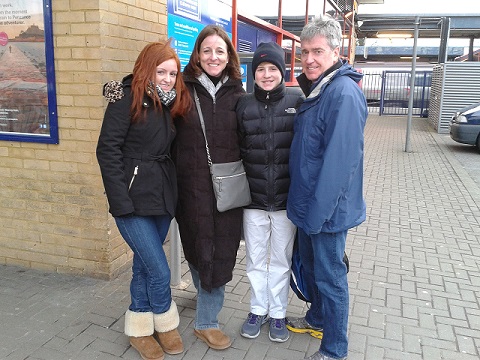 My family and I met Ken in Oxford and he took us to a delicious lunch at The Swan Inn. The tour of the English country side and the Cotswold villages was one of the highlights of my family's trip to London. It was nice to leave the hustle and bustle of the city behind for a day and see the gorgeous rolling hills and the quaint cottages.
Ken was informative and professional. My husband and two teenage children could have listened to his stories all day. The icing on the cake is that Ken is a perfect English gentleman and we enjoyed our day with him immensely.
Jim and Laurie Reed and family
North Carolina, USA
---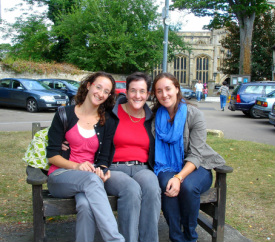 Dear Ken,
My daughters and I had a lovely day in the Cotswolds with you. We were delighted that you were able to pick us up in Oxford, take us for a personalized tour of the Cotswolds' and then return us to our hotel the same day. Your personal anecdotes and vast knowledge of general history and the history of Burford added to the overall charm of the day. Walking along the streets with a native of Burford was an experience in itself (since almost all of the townspeople knew who you were!). We appreciated the way you were able to accommodate our last minute changes and make sure that we had a unique and meaningful experience. Our visit to the Cotswolds with you as our guide was one of the highlights of our trip to England. Thank you!
Sharon, Becky and Leslie Laufer
Efrat, Israel
---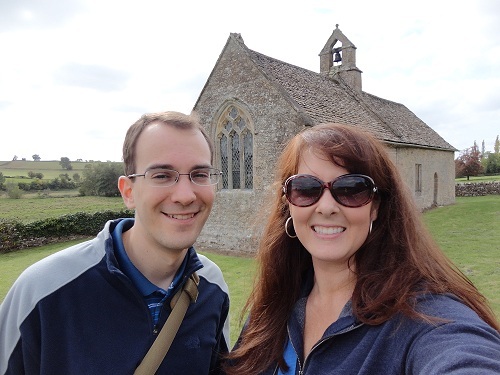 Ken Fowler was an amazing tour guide and we couldn't have been more pleased! He's entertaining, knowledgeable, and so funny. He made the end of our England trip so enjoyable. Before we arrived in England I had talked to Ken multiple times about what my boyfriend and I had in mind for our tour. On his website he gives examples of how he would put together a personal tour, but what my boyfriend and I were looking for specifically was to see and learn about the historical part of the Cotswolds. We wanted to do a nature hike, tour the town churches and to see the hidden gems of the Cotswolds. I also asked to visit Broadway tower in Worcestershire. (The Broadway Tower is The highest little castle in the Cotswolds. It is one of England's outstanding viewpoints. On a clear day you can see the hills of Wales!) And of course Ken had no problem with any of our requests.
After a few more emails he had laid out a plan of what our tour would be like. We started our tour in his hometown called Burford, which I didn't know until the day of our tour! I couldn't believe my luck that our tour guide actually grew up in one of the most beautiful Cotswolds towns. There we saw the church that he used to go to, the Cotswold house that his parents built and the shop that his parents used to own. We then toured the town's lovely streets and did a bit of window shopping. Next, we went on our hike through a working farm with swans and sheep, which was so relaxing! Along the way we stumbled upon a church in the middle of the meadow and whilst in there Ken told us about the history and all the secrets that lay hidden within this small working church.
Ken patiently waited for us to finish up with our hike and a visit to another church, and we finally met up with him at a very old inn for lunch. After eating the delicious food we went to Broadway Tower and in my book it is a must for every tour! Going up that tower and having the most perfect, breathtaking views of miles and miles of the scenery of England was worth every penny! My boyfriend said being up in that tower and looking out over the land was his favorite part of the entire trip, and you know what, I couldn't have agreed more! After sadly leaving Broadway Tower we took a drive to Chipping Camden and did some antique shopping and before we knew it our time was up and our tour was over.
If anyone should ever ask me what they should do whilst visiting England I am going to give them Ken's website and tell them to make a tour date with him! He was such a great tour guide! I couldn't have asked for a better one or one that had more knowledge of the Cotswolds. Thank you so much Ken for making our England trip so wonderful and unforgettable! You are the best!
Sincerely,
Meghan and Joe
Connecticut,USA
---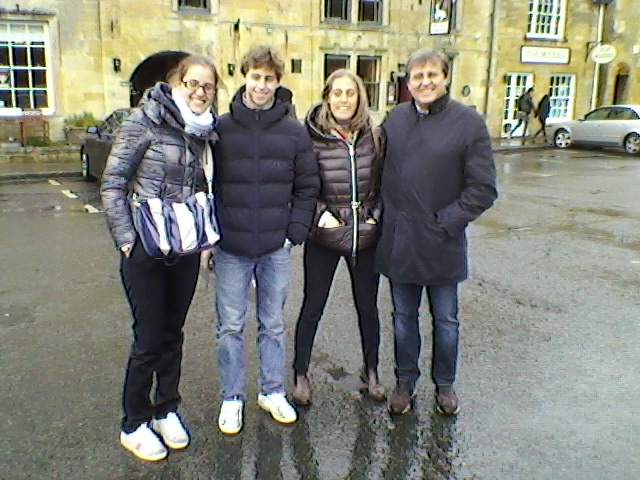 Dear Ken,
We had a wonderful day with you on our Cotswolds tour and everything we did was very well planned. Starting from your home town, the delightful Burford, we visited places that many other guides don't even know about, and you always gave us accurate and interesting information which were enriched by your personal experiences and anecdotes. It was fantastic that, even with the rain, we still managed to enjoy many of the picturesque towns of the Cotswolds such as Bibury, Chipping Campden and Snowshill. We appreciated the fact that you were really active in showing us one the most wonderful areas we have ever seen. Thank very much for the fantastic experience!
Roberto, Roberta, Francesca and Edoardo Mattio
Padova, Italy
---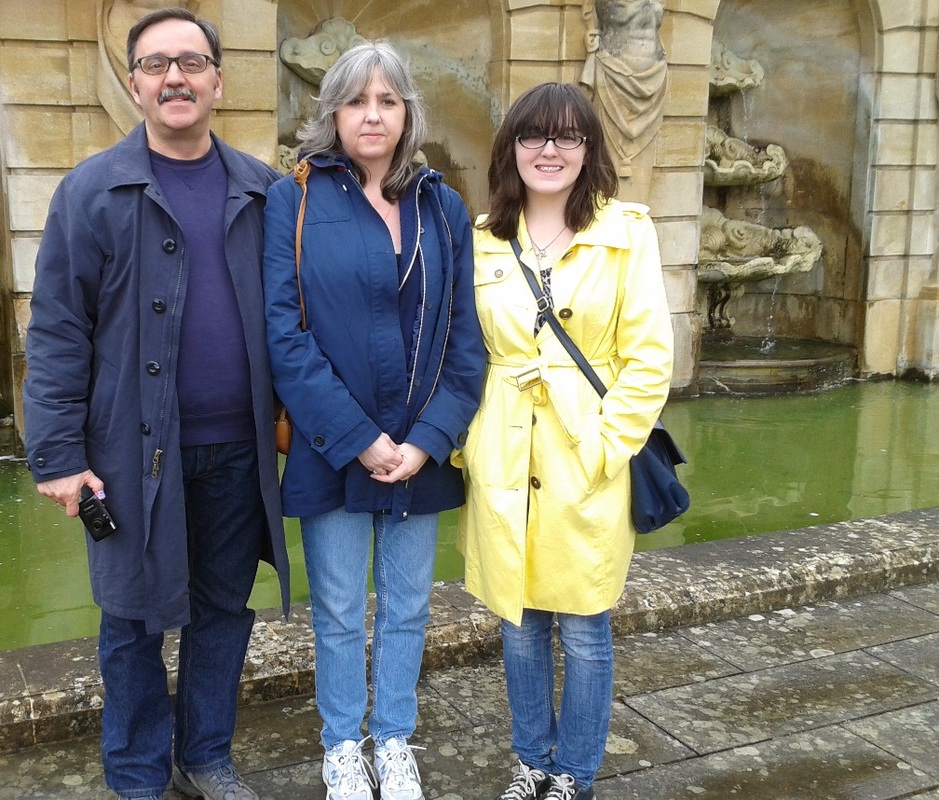 Ken showed us a great time and we had a tour we won't soon forget. We had discussed a challenging itinerary of Oxford, Blenheim Palace , and a view of the Cotswolds all in one day. Ken was up for it and remained flexible about what we saw and how much time we spent on each.
We really appreciated how Ken remained attentive to what we wanted to do next throughout the day. He didn't rush around from place to place and always made sure we were OK with moving ahead. He has great local knowledge and a friendly and humorous way about him that added to the day's enjoyment.
Ken's suggestion to use a local pedicab service in Oxford turned out to be a great idea. Besides being a novel mode of transportation, the young men pedaling the cabs are locals as well and had plenty of knowledge they were happy to share. The pedicabs saved our feet, expanded the number of sights we could see in our limited time, and on our particular trip, kept us dry!
In sum, we had a great time touring Oxford , Blenheim Palace and a splash of the Cotswolds. If you're going to be in this area and want to have a great day, Fowler Tours is the one to call!
Michael Sulewski and family
New Jersey
---
A friend and I took a day tour in the Cotswolds with Ken Fowler. It was a wonderful experience. Ken picked us up and dropped us off at our hotel in a very comfortable SUV. Running a little late, he had his sister call the hotel and let us know that traffic had delayed him. He even apologized for the intermittent rain we experienced! We visited the beautiful villages of Chipping Campden, Stow-on-the-Wold, Lower Slaughter, Bourton-on-the Water, Little Rissington, Burford and Bilbury.
We had a wonderful lunch at The Swan in Swinbrook and being an avid follower of "Downton Abbey", I was pleased to know that the pub had been shown in one of the scenes on the series.
Ken is very knowledgeable about the area, since he grew up in Burford. His many stories and anecdotes made the day even more pleasant. He is very familiar with the shops and did his best to help us find just the right gifts to bring home.
One important note he is very willing to tailor your tour to your specific needs and make last minute changes.
I would highly recommend Ken Fowler Tours to any travelers wanting to see the Cotswolds.
Michal
USA
---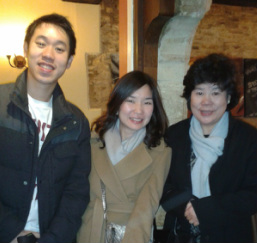 Dear Ken,
Many thanks again for a very nice day trip today. We had a wonderful time and our photos are fabulous!
Will definitely recommend you to our friends.
Thanks!
Thai word you learned today - "AROI MAK" = very delicious)
Oar and Teak
Thailand
---
Cotswolds is an area in the English country side,glorious beauty where you get yourself lost in the country side, streams, lawns, sheeps, horses, cottages & amazing nature. Ken made our day most perfect. He is really proffessional & his way in guiding us is unique. He made us feel comfortable in a friendly, home like atmosphere. He welcomed us at Charlbury train station & took us in his is car the whole day, from 9:39 till 5 pm & drove us back. He took us to many beautiful villages and gave us an historical background. He allowed us to do whatever we wanted. He made whatever stops for taking pictures. He took us the Swan Inn pub which is an excellent choice (serving international food in an home made fashion, taste is really different). So I recommend this guy strongly. If you have time get the full day tour which starts from 9:39 am if you leave London Paddington at 8:22 am. The return train leaves Charlbury at 5 pm Ken will send you the schedule & can modify it as you need. Finally I would like to thank him as he insisted to wait with us at the train station until we leave.
Haytham Mously
Saudi Arabia
---
There are many more testimonials for you to peruse on Trip Advisor.